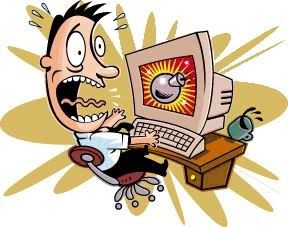 I'm sorry for all the lack of posts! As most of you know, my computer has been acting crazy for some time. Well, a few days ago it decided to stop working. I currently have someone working on it, but am in the process of dealing with HP about getting a recovery disk. They act like they don't want to sell me one. I guess I have to argue with them for more than two days.
I am being a good girl though. I have not shown them the rage a red head can bring yet. I am waiting for a call from the manager in 48 hours. We shall see what happens.
For now I am checking my email on Hubby's slow phone that is no longer made. It works, but only when it wants to get on the Internet. Some days it just doesn't feel up to it. Today I am on a computer at the local library.
I will be having some great reviews and giveaways coming up though, so stay on the look out for that! I hope to have everything corrected with my home computer soon!