Welcome to Meet Me On Monday! You will find that you can learn a lot about someone by joining in on this wonderful meme. It is hosted my Java over at
Never Growing Old
.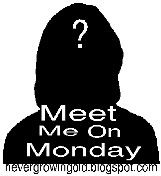 Today's questions are:
1. Have you (only you..not a group) ever won first place in anything? I have won first place before in a High School Science fair. Not only did I win first place, but I won prize for having the best project in the school. (The categories covered science, history, math, and more.) I am very proud of this still! I wish I had a picture to share, but I will tell you that I made my own barometer! I also won first prize in science the year before too. (But, not first overall in the school.) That year I showed how to grow radishes in a homemade green house. Yea, I know I'm a smarty pants. LOL!
2. Are your toes always painted (sorry guys...this question for girls only)? My toes are ALWAYS painted in the summer. In the winter I give them "breathing" time. They get to rest for the colder months when they are covered in socks.
3. What color eyes do you have? My eyes are Hazel. They seem to change with what I'm wearing. I like this fact. With my red hair and a blue shirt, I have amazing light blue eyes. With a green shirt, I have beautiful green eyes!
4. Look to your left....what do you see? My kitchen sink. Nice and empty. I just did the dishes! Yea Me!! I love a good clean kitchen
.
5. Soft cookies or crunchy cookies? Well now, that all depends. I like both really. I don't discriminate on my cookies. All cookies are yummy to my tummy! I do like homemade cookies softer, but store bought a little crunchier. Who am I kidding. You offer a cookie, I'm gonna eat it!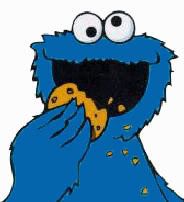 Thank you for visiting my page! I am still having some computer dificulties and am behind on visiting others, but will be swinging your way soon!