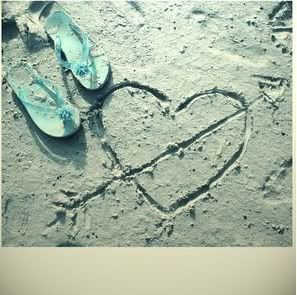 Goodbyes are always hard. Seasons change and the weather changes with it. My flip flops are my must have item in the summer. I like my toes to be painted and my feet to feel free without going totally barefoot. I have outside flip flops and inside flip flops. Needless to say I love my flip flops.
It's just as hard to say goodbye to summer. Summer is sunshine, plastic swimming pools, tomatoes growing on the vine, shorts, and big fans. Even though I will miss Summer I know it will be back. Just like my flip flops. They will be waiting in my closet for next year. But, the season of my life I am in right now will be gone forever.
This season of being 20 something and having a pre-school. The season of needing to work hard to pay the house and truck note. The season of trying to save for retirement. All this in this season I will miss. I say goodbye to it knowing that the season to come will hopefully bring so much more. I am looking forward to my 30s and homework. I am looking forward to having our house and truck paid off. And, I am looking forward to having money saved in the bank. None of these are guaranteed to me, but I sure hope I get to see them all, as well as much more!
So goodbye my beloved flip flops. I will miss you until next season!