Yea Me!!!! I finally did it!
I have been working and trying and having my head hurt of this for months! I gave up and started again so many times! But, I finally did it!
I made myself a button!!!!! (Yes, it would have been sooooo much easier to just pay someone to make one for me, but I wanted to make one myself! Crazy I know!)
Please grab my button and put it on your blog! I would love to see it on all my favorite blogs. Let me know if you do grab it and I will grab your button, if I don't have it already!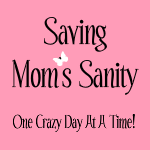 You can find the code on the right collumn under my button's picture!
I want to send a big thank you to my friend Bernie over at
One Mixed Bag
! She helped me by sending me some great links to making your own button, but most of all she supported me! She was the first to grab my new button and the first to congratulate me. Thank you so much Bernie! You are the best!!!! Your blogs not to shabby either. You lace it with so much humor, I got addicted very quickly!