I
love this new Meet Me On Monday time! Java over at
Never Growing Old
is hosting this great blog hop and this is my second Monday to join in. She asked 5 questions and here are my answers.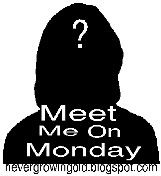 1. What will your Christmas dinner consist of? Well, I have three Christmas dinners to enjoy. On Christmas Eve I will be going between my family and my Hubby's family Dinners. On Christmas Day I will be cooking for us and each of our Dads. (Our families are both divorced.) All together we will have fried turkey and backed ham. 
2. Do you watch commercials or flip through the channels? I don't watch a ton of tv, so I often find that when I do commercials are a time to run to the bathroom or kitchen. I sometimes catch a few commercials.
3. How long will you leave your Christmas decorations up? I normally have it all down before new years, but sometimes leave the nativity set up longer.
4. What movie makes you cry every time you watch it? I'm not much of a movie person. I don't have much time to sit through a 30 min. show much less a movie. I can't remember any one movie that made me cry more than once. Or for that matter, when was the last time I saw a movie that made me cry.
5. Do you have a Facebook? I finally let my Hubby talk me into facebook a few months ago. I mostly like to play bejeweled!
Ok, you know more about me know. How would you answer these questions?